The ENHANCE Alliance launches its first MOOC: "Responsible Innovators of Tomorrow"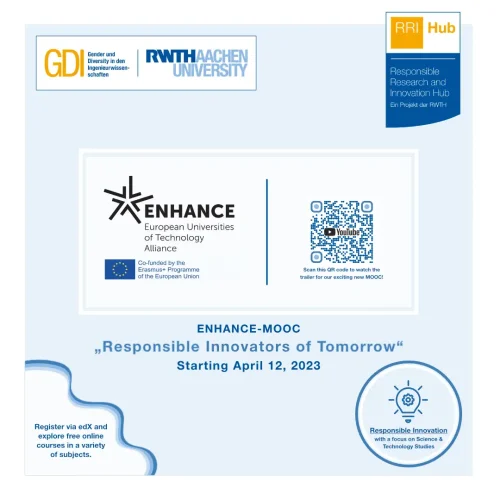 Students from the member universities of the ENHANCE Alliance had various international opportunities within the network, either organised in cooperation or offered by a partner, but the offers is getting broader. Indeed, they will be able to participate in the launch phase of the first ENHANCE MOOC, "Responsible Innovators of Tomorrow", from 12 April. The course will be posted on the edX website of RWTH Aachen and will be available for all undergraduate students from the partner universities but also for the general public.
The format of the course, implemented in a platform-based eLearning environment, will allow the students to participate from their home university. They will have access to video lectures, texts, and live discussions. These various tools will focus on topics related to responsible innovation, more specially in Science and Technology Studies. Moreover, the course will provide interdisciplinary and broad perspectives thanks to the integrations of the knowledge of experts form the different ENHANCE universities. With this main theme, the MOOC is integrated in the Sustainable Development Goals, preparing students to take on social responsibility in their future careers by addressing many topics, among those gender and diversity, RRI, and the SGDs. More information are available on the page dedicated to the MOOC on RWTH Aachen's website.