WHAT ARE THE EUROPEAN EDUCATION PATHWAYS?
The European Education Pathways are part of the ENHANCE vision of creating One European Campus among the partner universities. European Education Pathways are a system of shared learning goals and outcomes, a subject and competence mapping tool that allows students to select courses across all educational offers of the partner institutions.
Through this initiative, the ENHANCE Alliance promotes a seamless physical and virtual mobility giving the students the opportunity to take curricular courses within their study paths from the educational offer of several partner universities.
The courses offered within the European Education Pathways are pre-approved and automatic recognition of ECTS credits is guaranteed.
The ENHANCE Alliance foresees extending the number of study programmes involved, providing partner institutions with a framework for deeper international cooperation and exchange and an increasing number of students with a wider European experience.
WHICH ARE THE BENEFITS OF THE EUROPEAN EDUCATION PATHWAYS?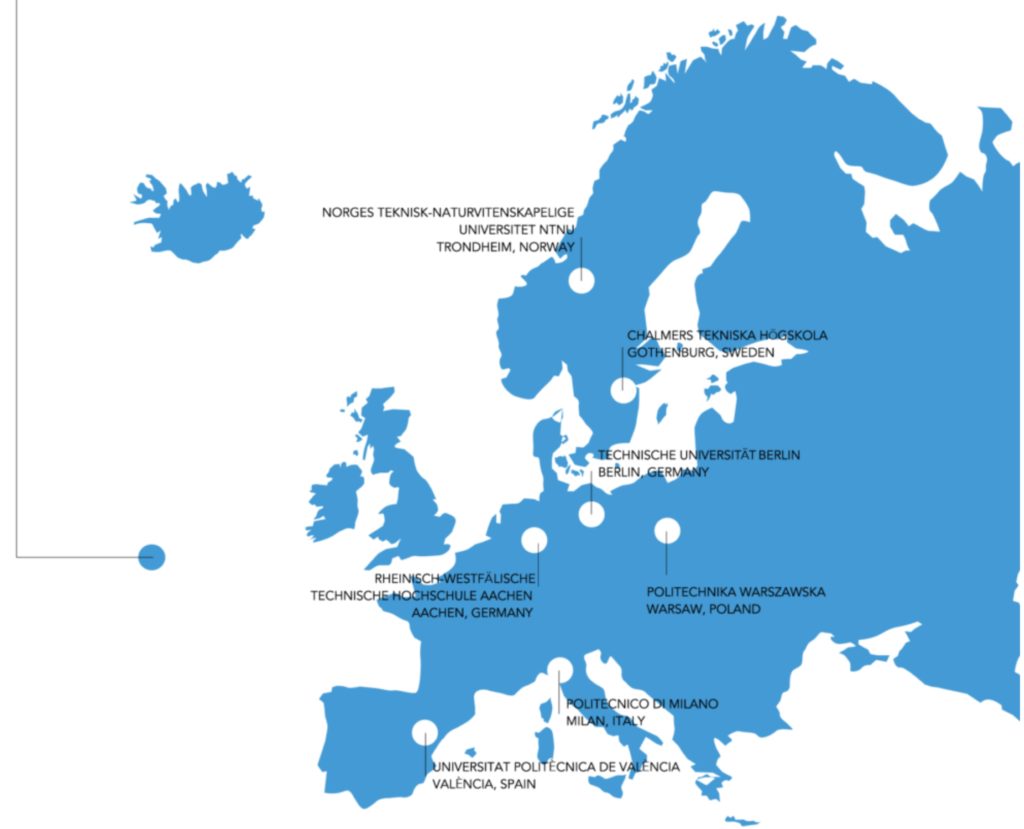 Be a part of the ENHANCE Alliance
Design your personal education pathway by choosing from the offer of the leading European universities of technology
Access the catalogue of pre-approved courses specially selected by all the universities of the ENHANCE Alliance
Build your own study plan without difficulties by selecting from the list of courses inside the EEPs Catalogue. All of them have been pre-approved by your home institution.
Enjoy an automatic recognition of credits. You do not need to worry anymore about getting your ECTS recognised by your home university
Upon your return, the ENHANCE partners automatically recognise ECTS obtained abroad and your transcript will be automatically updated
WHICH EUROPEAN EDUCATION PATHWAYS ARE CURRENTLY AVAILABLE?
Five study programmes are already included in the European Education Pathways list for the academic year 2022/2023:
BSc in Mechanical Engineering
MSc in Mechanical Engineering
MSc in Energy Engineering
MSc in Computer Science and Engineering
MSc in Urban Planning
Access the Catalogue to explore the courses available at each university:
HOW CAN YOU APPLY?
Contact ENHANCE team of the International Office of your home university for more information about the specific ENHANCE calls.
UPV: enhance@upv.es
WUT: dominika.jasinska@pw.edu.pl
Chalmers: jens.hansson@chalmers.se
TUB: j.irlenkaeuser@tu-berlin.de
NTNU: Wolfgang.laschet@ntnu.no
RWTH: jasmin.ahadi@zhv.rwth-aachen.de
POLIMI: enhance@polimi.it
 FACTS & FIGURES ABOUT THE EUROPEAN EDUCATION PATHWAYS

7 Partner universities
5 study programmes
Hundreds of pre-approved courses
Automatic recognition of ECTS credits
Embedded virtual mobility
Two-semester mobility funded
HOW TO FINANCE YOUR MOBILITY WITHIN THE EUROPEAN EDUCATION PATHWAYS
You can find economic support to finance your participation in the ENHANCE European Education Pathways using all the alternatives at your disposal provided by European Union grants. Contact the International Office of your home university to learn about the different possibilities of financing through EU grants.
HOW TO IMPROVE YOUR LANGUAGE SKILLS
ENHANCE provides you with an opportunity to participate in Tandem programmes.
Please visit the ENHANCE Tandem Programmes web page to get detailed information about how to join them inside your home university and during your mobility period.
HOW TO PREPARE YOUR MOBILITY
Visit the Mobility for all ENHANCE webpage or contact the ENHANCE team of the International Office of your home university to learn about ENHANCE European Education Pathways.