The ENHANCE Partners constitute a highly interdisciplinary network of organisations from academia, industry, policy-making and society. They are involved in our various activities within the scope of our ERASMUS+ programme and serve as our sounding board. We value the input of our partners and consider it crucial for the successful achievement of our mission.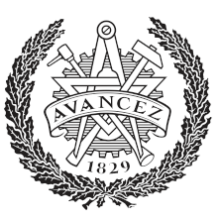 Chalmers Tekniska Högskola AB, Sweden, conducts research and education in technology and natural sciences at a high international level. The university has 3100 employees and 10,000 students, and offers education in engineering, science, shipping and architecture.
With scientific excellence as a basis, Chalmers promotes knowledge and technical solutions for a sustainable world. Chalmers was founded in
1829 and has the same motto today as it did then: Avancez – forward.
At Eidgenössische Technische Hochschule Zürich, students discover an ideal environment for independent thinking, researchers a climate which inspires top performance. Situated in the heart of Europe, yet forging connections all over the world, ETH Zurich is pioneering effective solutions to the global challenges of today and tomorrow.
Established in 1904, since 1945 Politechnika Gdańska University of Technology is a Polish public academic university. Since 2019, beneficiary of the national program Excellence Initiative – Research University. The university is among top three Polish universities in the official evaluation of research quality. It has dedicated funding for excellence project and state-of-the-art research infrastructure.
Norges Teknnisk-Naturvitenskapelige Universitet, is a university with an international focus, with headquarters in Trondheim and campuses in Ålesund and Gjøvik. NTNU has a main profile in science and technology, and also offers great academic breadth that includes the humanities, social sciences, economics, medicine, educational science, architecture, entrepreneurship and art disciplines. 
Politecnico di Milano is a public scientific-technological university which trains engineers, architects and industrial designers. The University has always focused on the quality and innovation of its teaching and research, developing a fruitful relationship with business and productive world by means of experimental research and technological transfer. With over 47000 enrolled students, 16% of which international, 43 degree programmes entirely taught in English, 96% employment rate, Politecnico di Milano is the 1st university in Italy according to the QS ranking.

Rheinisch-Westfälische Technische Hochschule Aachen University is an integrated interdisciplinary university of science and technology focusing on the convergence of disciplines, creating a unique international educational, research, and transfer environment. At the core of RWTH's research and its competence-, research-, and practice-oriented education lie engineering, natural sciences and life sciences, consistently rooted in the context of society and economy.
Technische Universität Berlin has a long and rich tradition and is recognized globally as an excellent research university. Using its entire breadth of subjects, TU Berlin is establishing innovative fields and promotes inter-faculty research activities – for the benefit of society. TU Berlin regards research and teaching as inseparably linked. Teaching at TU Berlin enables students to meet the technological shift and its impacts on society with creativity, responsibility and a high level of expertise.

Technische Universiteit Delft realise 'Impact for a better society' through education, research and innovation. The university tackle global challenges that affect everyone personally; climate change, energy transition, urbanisation, digital society and healthcare. TU Delft look at issues interdisciplinary and always work from multiple perspectives and interests. The mission of the university is to contribute to solving global challenges by training new generations of socially responsible engineers and expanding the frontiers of the engineering sciences.

Universitat Politècnica de València is a dynamic and innovative institution devoted to research and teaching, with a strong international vocation. The UPV has five strategic goals for the coming years: sustainability, internationalisation, relevance, vitality and excellence. In this way, the University reinforces its commitment to contribute to society and business progress and the development of its students, teaching, research and administrative staff.

Politechnika Warszawska University of Technology is the oldest and the best technical university in Poland. It is one of the largest institutes of technology in Central Europe, employing ca. 2,500 staff with a student body of more than 23,000. Alongside its focus on engineering and science, WUT offers courses in architecture, social sciences and business. Central to WUT's long-term strategy is its transformation into a world-class learning, research and innovation centre. To support this ambition, it benefits from ENHANCE student and staff mobility initiatives.
ASIIN Consult
Board of European Students of Technology (BEST)
European Society for Engineering and Education (SEFI)
European Association for Architectural Education (EAAE)
European Young Engineers (EYE)
garagErasmus
Joint Programme on Smart Cities of European Energy Research Alliance (EERA JPSC)
Le Groupe des Écoles Centrale (CentraleSupelec)
Leverhulme Centre for the Future of Intelligence (University of Cambridge, Imperial College London, University of Oxford)
Lukasiewicz Research Network

Deutsche Bahn
Evoque Living Ceramics S.L.
Trenitalia
Volvo Cars
Volvo Group
Siemens
Ajuntament de Alcoi
Ajuntament de Gandia
City of Aachen
Ajuntament de València
Municipality of Milan
Trondheim Municipality
Warsaw City Hall
ArbeiterKind e.V.
Ciutat de les Arts i les Ciencies de València
Consum
Intersection – Centre for Science and Innovation
Kompetenz-Zentrum Technik-Diversity-Chancengleichheit e.V.
Museum für Naturkunde, Berlin
Perspektywy Education Foundation