From 15 to 19 May, Warsaw University of Technology organised and hosted the international workshop "Smart Sustainable Cities & Communities – Phantom Menace or New Hope?" with 28 students from 8 university and 6 countries. After a combination of in presence work and online classes, the whole experience ended with a student exhibition presented on the first floor of the Faculty of Mathematics and Information Science at WUT.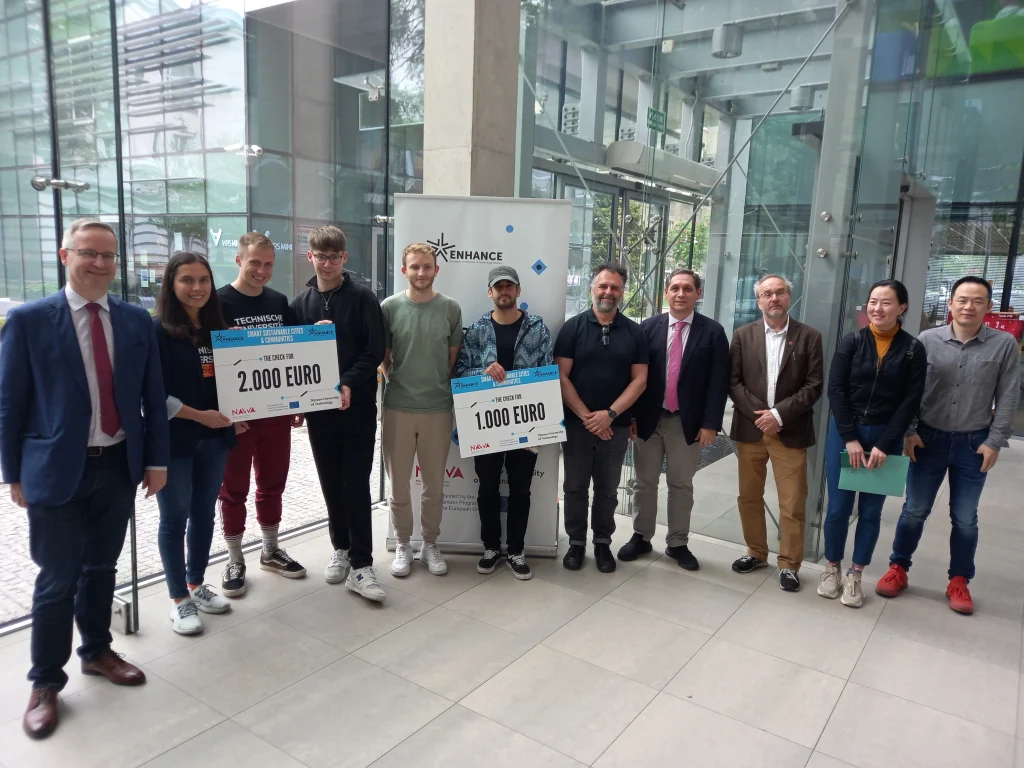 The workshop was designed to help participants understand the complexity and importance of the processes involved in designing and operating sustainable and smart cities in conjunction with the needs of residents. During the hands-on activities, students learned about the latest technological solutions and trends in the smart city field. They also became familiar with the basic theoretical concepts of sustainable development. Participants developed prototype solutions for selected problems diagnosed in their cities as part of the workshop. The detail of all the projects presented by the 8 teams of students can be consulted and downloaded here.
The international jury that was in charge of judging the project and selecting the best of them was composed of members from 5 ENHANCE universities: Robin Chang (RWTH Aachen), Jorge Gil (CHALMERS), Javier Rodrigo (UPV), Robert Olszewski (WUT) and Yu Wang (NTNU). A team from the Technical University of Berlin won the first prize for the EVA (Energy Voice Assistant) project and a team from Chalmers University received the award of distinction for their FOODPRINT project.
The exhibition ended on 26 May, but the ENHANCE Alliance hopes this challenge has encouraged the team to further developed their projects.